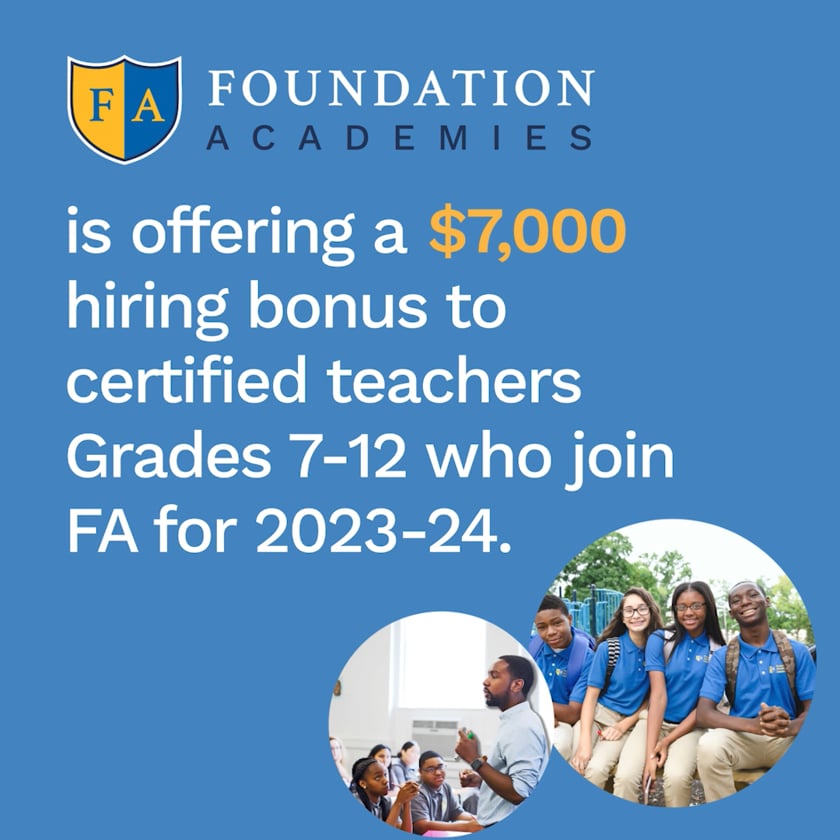 $7,000 hiring bonus for Math, Science, Special Ed, and Spanish language teachers grades 7-12.
At Foundation Academies, you can change lives --including your own. Check out our job openings. And let's talk.
We believe the interview process goes both ways. Our process helps us recognize if you're right for Foundation Academies, and helps you decide if FA is right for you.
We start with a phone conversation. You'll visit. Talk with those who would be your colleagues and supervisors. You might be observed teaching a class. Or be asked to share a presentation. We have high standards because we are changing lives here.
Are you up for it?
Here's What You Can Expect as an Applicant
We look forward to getting to know you better.
STEP 1: Application Review

Your resume and cover letter will be thoroughly reviewed to decide whether your qualifications are a strong match with our philosophy on education. If so, we will contact you via email with an invitation to a phone interview within 48 hours of your resume being reviewed. If you're not selected for a phone interview, you'll be notified via email.

STEP 2: Phone Interview

Phone interviews are conducted by the Talent team to further investigate your qualifications, experience, and perspectives on our culture and philosophy. The interviews take no longer than 30 minutes. Once your phone interview has been completed, you'll be notified via email within 48 hours regarding your potential advancement to the next step - a semifinalist virtual interview.

STEP 3: Demo Lessons / Performance Tasks

For teaching positions, you will conduct a demo lesson with our leadership team acting as students in the appropriate grade and content. We will provide you with lesson objectives to create your demo lessons based on the content that students are currently learning.

For non-teaching positions, you will conduct a performance task online that is relevant to the position for which you applied.

These demonstrations provide us the opportunity to determine how well you fit into our culture and provide you an inside look at our day-to-day life at Foundation Academies. Note: these demo lessons and performance tasks can take up to a full day. We encourage you to plan accordingly when invited.

We hope to make decisions in less than a week from the day of your demo lesson/interview.

STEP 4: Virtual Interview

Based on the results of your phone interview, you as a semifinalist candidate may be invited for a series of virtual interviews to meet with our staff and faculty. In addition to your interview invitation, you'll be asked to provide the following documents: official transcripts, performance evaluations from the last two years of employment if applicable, and copies of any certifications that you currently possess. Please note: some semifinalist interviews can be conducted all in one day, others may be conducted over two separate days.

STEP 5: Professional Reference Check

Based on the review of your demo lessons/performance tasks, we will contact your professional references via email and phone asking them to complete our reference check form. We will contact at least one of your past/current supervisors and two professionals.

Once reference checks are completed, the hiring manager will contact you via phone with an offer, or, the Talent team will contact you within 72 hours of your interview in the event that you are not selected for the position.

Once offered, all hired candidates are subject to a criminal background check and Mantoux (TB) test.

The hiring process is extensive, but this is because we only wish the best for our students.
OUR COMMITMENT TO DIVERSITY, EQUITY and INCLUSION
At Foundation Academies, we believe that when we can bring our whole selves to work on a day-to-day basis, we become happier, more comfortable, and more confident. In turn, that strong sense of self translates to happier and more confident students. Foundation aims to build internal teams with talent from all different backgrounds and lifestyles so that our students can see a wide variety of what success looks like across gender, race, religion, ethnicity, gender expression, and other markers of identity.
Find Us On Social Media To Get To Know Us Even Better!